Boost Your Company Culture With Artichoke Art

At Artichoke Art we are on a mission to transform workplace culture by connecting companies with local art & artists. We believe that artwork can enrich both our spaces and our minds.  
Our Services
Artichoke Art is your one stop shop for creativity at work. We offer a unique art subscription service for your workspace that makes it easy to enjoy art without the hassles of ownership. We also facilitate creativity activation sessions for your team led by our artists.
What is Artichoke Art
Artichoke Art is a Toronto based company. Our goal is to inspire creativity by connecting workplaces with local artwork. We provide a simple solution for enjoying the benefits of art at work without the hassle of ownership.

How We Work

It all starts with a free consultation where we determine your company needs. We provide complimentary curation services to all our clients so don't worry if you are not an art expert.
We curate, install and rotate gallery walls featuring the work of local artists. We save you time, money and the hassle of owning original art, all while keeping your space unique and fresh.
Creativity Activation Sessions
We have a unique take on creativity. Our art sessions are template free, engaging and designed to tap into the creative side of the brain. We use design thinking principles coupled with art techniques to encourage out of the box thinking.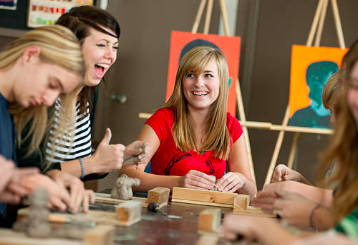 ---
"Art is good for business. It increases creative thinking and improves mental health.
~
We take the stress out of owning, managing and displaying art, making it easy for you to connect with culture."
Join our mailing list for behind the scenes features of local artists, hot topics, events & more!
Thanks!
This field is required
This field is required